Fire hits Horse and Jockey pub in Stanford in the Vale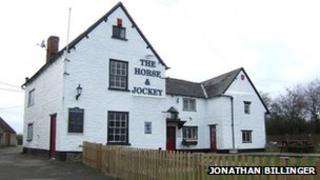 A fire has severely damaged a 600-year-old pub in an Oxfordshire village.
The blaze started at The Horse and Jockey in Stanford in the Vale after 21:00 on Saturday and rapidly engulfed the first and second floors.
A "large number" of guests had to be evacuated but no-one was hurt. The pub is the only one in the village.
It took more than 50 firefighters to put it out. Oxfordshire Fire and Rescue's area manager Nigel Wilson described it as a "difficult" task.
He said: "Because of the age and construction of the building and the different roof slopes it was difficult to deal with.
"The firefighters did an extremely good job and we managed to stop the fire spreading to the entire roof.
"The occupiers of the property did a good job in evacuating everybody."
Fire services sent 14 vehicles to the building with a crew on site throughout the night to ensure the roof structure was safe.
Further investigations are being carried out to establish its cause.