East Hagbourne thatched cottage roof destroyed in fire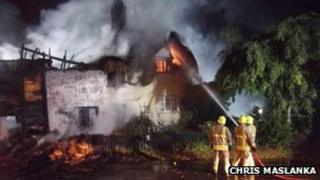 A fire has destroyed the roof of a thatched cottage in Oxfordshire.
About 40 firefighters helped tackle the blaze, which broke out at a property in East Hagbourne near Didcot at about 22:30 BST on Saturday.
The occupiers managed to escape unhurt as the blaze rapidly spread through the roof of the property.
Firefighters were still at the scene damping down the thatch earlier. The cause of the blaze is still being investigated.
Incident commander Paul Webster said: "The occupiers realising there was a fire did the right thing.
"They quickly evacuated the property and called the fire service.
"The speed at which the fire spread throughout the whole roof shows how little time people will have to think in a fire situation."