Oxfordshire council increases pothole repair rates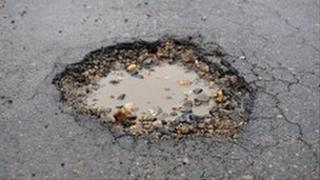 More than 15,000 potholes have been fixed in Oxfordshire after an online reporting service was launched.
People have posted more than 2,400 images and reports on the Fix My Street page since it was set up in March.
One recent photograph posted shows a hole circled on a road with the words "fix me" written underneath.
Oxfordshire County Council said it had fixed 15,349 defects since the start of March - well above its target of an average 3,000 repairs a month.
An extra £250,000 was earmarked for road repairs as part of the scheme.
A council spokesman said people were continuing to use the Fix My Street page as a way of reporting defects on the county's roads.
People can take photographs of potholes and upload them online with location details.
The council's contractor pledges to fix potholes within 28 days, 24 hours in an emergency or four hours for the most severe category once reports have been verified.
More than 37,837 potholes in the county were repaired between April last year and March compared to 24,000 in an "average" year, the council said.
The council said the increase in problems is part of a national trend.