Oxford Oxpens development plans on show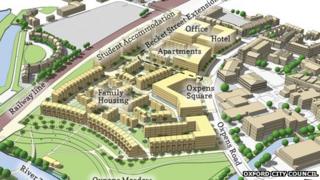 Proposals for developing part of Oxford city centre have been revealed.
Up to 125 houses and 172 apartments are planned for the Oxpens site between the railway station and Westgate shopping centre.
Oxpens Meadow would be retained under plans which also include student homes, a hotel and a public square.
A six-week consultation has begun on what the city council called "a rare opportunity to create a new city centre neighbourhood".