Sutton Courtenay warehouse plans criticised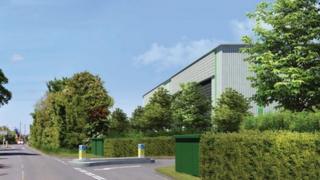 Proposals to build new warehouse space in south Oxfordshire have been labelled as "unsympathetic" by campaigners.
Plans for the 62-acre (26 hectare) site in Sutton Courtenay were unveiled in the village on Friday.
Steve Noise from the Keep Sutton Courtenay Rural campaign said: "[It's the] unsympathetic way that they're doing it. There isn't a need for a massive warehouse."
Simon Leonard, from Cordea Savills LLP, said it would take feedback on board.
The developer has claimed the facility near Didcot Power Station will create 2,000 jobs.
'Big shed'
Mr Noise said: "They're only estimating how many jobs will be created.
"I feel they may have listened about possible crossings and a footpath development along there to make it safe for the children [but] there's quite a few other little things that they could do apart from building one great big storage shed."
Mr Leonard said: "We've welcomed the opportunity to speak to local people and there have been a number of issues that have been raised that we will now go and look at.
"We're still confident that the 2,000 new jobs and wider economic boost to south Oxfordshire will play a positive part."
Cordea Savills LLP is expected to submit a formal planning application to Vale of White Horse District Council next month.
Another public consultation event will take place at Didcot Civic Centre on 15 June.