Oxfordshire's earliest recorded resident: Roman tombstone goes on display
By Dave Gilyeat
BBC News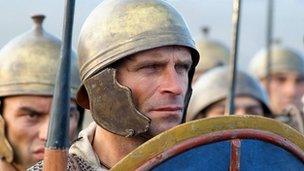 It is known that in a long lost town in the Oxfordshire of AD 79 an Italian immigrant died.
The discovery of the tombstone of Lucius Valerius Geminus - a veteran of the Second Augustan Legion - has revealed to archaeologists the first known biography of any person to have lived in the county.
It was discovered in fragments in a field, once the bustling Iron Age town of Alchester, near modern day Bicester. It has been reassembled so it can go on public display.
Dr Chris Ferguson, curator of archaeology at Oxfordshire Museum Service, said: "His biography is probably the earliest for a veteran in the entire province of Britannia, and he is certainly the earliest for this region of Roman Britain."
Lucius came from the Alpine foothills of northern Italy.
It is likely he enlisted in the legion while it was stationed in Argentoratum, now Strasbourg, in France.
From there he would have joined the front line in the failed German expedition of AD 39, led by the then Roman Emperor Caligula.
The emperor came to an early end, murdered at 29 with his wife and daughter, but Emperor Claudius' invasion of Britain in AD 43 may have brought Lucius greater glory.
Like most Roman soldiers his service lasted about 30 years. He retired at the legion's then main base in Alchester.
Nicholas Purcell, Camden professor of ancient history at Brasenose College, said: "This is right at the beginning of the Roman conquest, so Alchester looks like the earliest settlement by some way.
"There was, it seems, no Roman Oxford."
Dr Ferguson added: "They were constructing the roads from Gloucester, over to Alchester and Cirencester, and there are a number of Roman towns... Dorchester in the south, and Silchester down in Berkshire.
"It becomes quite a peaceful place over the period of the Empire. A lot of villas are built, there are lots of big expanses of farmland, with people growing crops, trading in the towns and exporting their wealth out of the region."
Archaeologists say a surviving tombstone from this early period of the occupation is very rare.
Its discovery was an accident. Smashed to pieces and used as part of a wall, it was found during the excavation of Alchester's town gates in 2003.
Dr Ferguson said: "It's quite sad. It's a town you wouldn't normally know about if you're going to modern day Bicester."
The fragment specifying Lucius' age is only partially complete, but he was between 49 and 52 years old.
The inscription, translated from Latin, reads: "'To the souls of the departed: Lucius Valerius Geminus, the son of Lucius, of the Pollia voting district, from Forum Germanorum, veteran of the Second Augustan Legion... lies here.
"His heir had this set up in accordance with his will."
So Lucius left behind a family whose descendants are possibly still in the UK today.
Professor Purcell said: "Forum Germanorum, where he was born, was a pretty obscure little place... he may not have had much reason to make the journey home.
"They rebuilt Colchester as a city for Roman veterans, and if I had been Lucius I'd have been hoping for a nice town-house there for my last years."
With reconstruction complete, the monument to this once unknown soldier will be displayed at the Oxfordshire Museum in Woodstock from 20 July.
Related Internet Links
The BBC is not responsible for the content of external sites.