Oxford Pound plan to help local businesses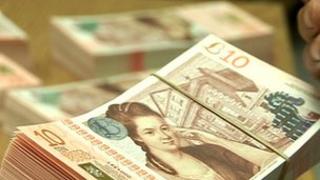 Oxford is set to follow in the footsteps of Bristol, Lewes and Totnes by introducing its own currency.
A group in the city hopes to launch the Oxford Pound in 2014 in a bid to boost the city's economy.
A similar scheme run by the Bristol Credit Union has been hailed a success, with more than 1,000 members and £100,000 of deposits.
The scheme aims to support local businesses and keep money circulating within the local economy.
Adam O'Boyle, who is leading the Oxford project, said: "Although we think Oxford is a great city, it could always be better.
"We were really impressed by what they're doing in Bristol in terms of increasing trade to local businesses, increasing the profile of the city."
Mr O'Boyle, who runs Turl Street Kitchen - a community business that supports the Oxford Hub student network - said a working group had been set up and discussions were taking place with the Bristol group about the feasibility of the scheme.
He said: "We would like to think it would happen in a year, in the spring, depending on how much support we get."
'Influence and power'
Steve Clarke, one of the directors of the Bristol Pound, said: "The idea is to support local independent shops.
"Like Oxford, Bristol has got some quite interesting high streets with lots of lovely independent shops and we're just trying to keep it that way.
"What you do with a local currency is you pass on the obligation so, if you spend your Oxford Pounds in your local hairdresser, they have to spend it in a local shop as well.
"There has been a lot of research that has shown it goes around about eight times and the money stays in the city.
"People have to think about what they are doing and they realise they have got choice and a lot of influence and power in their wallets, which they perhaps hadn't thought about before."