Fashion label cancels party after death of boy, four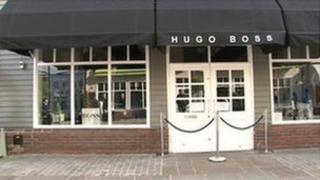 Hugo Boss has cancelled a major event following the death of a four year-old boy after a mirror fell on him in one of its designer shops.
The firm had planned a party for its London Collections: Men at the National Theatre in the capital on Monday.
But the fashion label said it would be "inappropriate" to host the event so soon after the tragedy.
The boy died four days after the incident at the Hugo Boss store in Bicester Outlet shopping village.
He had suffered serious head injuries when the mirror fell on him at about 20:30 BST on 4 June.
A Hugo Boss spokesperson said: "Everyone at Hugo Boss is devastated by the matter and we feel it would be inappropriate to host a party so soon after the event."
Thames Valley Police is investigating the death of the boy, from Crawley West Sussex, who has not yet been named.
Cherwell District Council officers are assisting police with health and safety aspects of the investigation.