Kidlington plane lands with faulty landing gear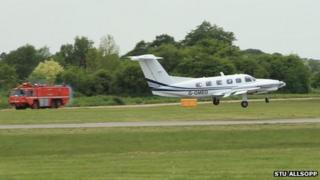 A plane has made an emergency landing in Oxfordshire after having problems with its landing gear.
The light aircraft, which had three people on board, touched down safely at London Oxford Airport in Kidlington at about 14:05 BST.
It circled for more than two hours to burn off its fuel before the attempt.
Emergency services, including five fire engines and two ambulances, were mobilised after a distress signal was sent just before midday.
Eyewitness Stu Allsopp said: "The nose wheel was skewed off to the left instead of pointing straight ahead.
"Presumably when it hit the ground whatever was stopping it turning the right way was corrected and it seemed to make a perfectly good landing, but it definitely looked wrong."