Oxford Covered Market rent hike defended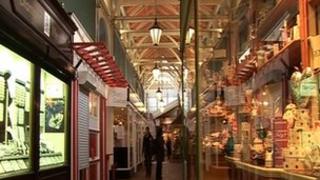 Moves to increase rents by an average of 50% at a historic market in Oxford have been defended by the city council.
A petition to "Save The Oxford Covered Market" has gathered more than 8,000 signatures since it started in March.
The council said rents were currently "very low" considering the market's central location, but that cuts in government grants also played a part.
The rent rise was due to have taken effect in March but has been delayed as some traders go through arbitration.
There are more than 50 independent shops in the Covered Market, with an average rent of £16,800 per year (£320 per week).
Florist Sandy Griffiths said she would have to close her business after 30 years.
She added: "It's that serious... I've cut the staff down to the quick.
"There's only so far you can go so I don't think there'll be a place for me in the city centre.
"The market's full of traders who can't afford to trade in the city centre, such as florists, bakers, butchers, and this market was designed to do that."
'Jewel in crown'
Shoe shop owner Vicky Alder said the rent rise would mean "dramatic" changes to her income.
She added: "This is an ideal opportunity to have diverse businesses that cannot afford to go out on the high street because you're working on lower margins."
Colin Cook, board member for city development, said the market was the "jewel in the crown" of Oxford and would continue to get investment.
But he added: "We are facing severe cuts in our government grants, 25% in the last three or four years.
"We have to look to our discretionary work and have reduced work that we try to do protecting some of the most vulnerable in this city.
"We have to use the money... to the best ability that we can to make sure that we provide the services that people of Oxford expect."
Retail consultant Keith Slater confirmed market space was cheaper than the rest of the city.
He added: "Oxford is a very high retail rental area [and] is short of shops... so if you compare [the rents] with other places in Oxford it's cheaper, but if you compare it with other cities it's actually quite expensive."
The Covered Market has been operating for more than 200 years in a building dating back to the 1770s.
The results of the arbitration process are expected in July.