Kidlington's Edward Feild Nursery may shut after 25 years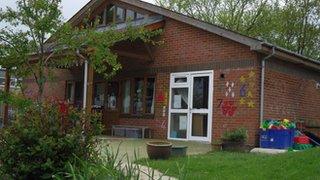 An Oxfordshire nursery school could shut after 25 years, to save cash.
Edward Feild Nursery in Kidlington faces an annual deficit of up to £40,000 because of changes in funding.
Head teacher Cathryn Wilkes and governors said merging it with the primary school on site is not an option.
The nursery could shut at the end of December if the publication of a notice of closure is agreed by Oxfordshire County Council's cabinet later.
'Not sustainable'
Mrs Wilkes said the nursery is no longer sustainable as a separate school, but the primary school is not in a position to subsidise provision for nursery-aged children.
She said: "The nursery used to be place funded. We had 52 places and we were funded whether they were filled or not.
"The rules changed in 2011 and they are now pupil funded. We tend to get fewer children in the Autumn term and the numbers build up during the year.
"Also, we have had a number of grants that came to us before as well. It was a substantial decrease in funding."
Robin Playgroup, which operates separately to the schools but on the same site, could expand to accommodate up to 52 children who would be affected by the closure.
Mrs Wilkes added: "We can't maintain it as a separate nursery school. We would run at a deficit and I don't think we would be able to run it at all.
"We have taken about 18 months to look at a model that provides the best provision for children in our care."