Oxfordshire beheading: Jonathan Limani's appeal rejected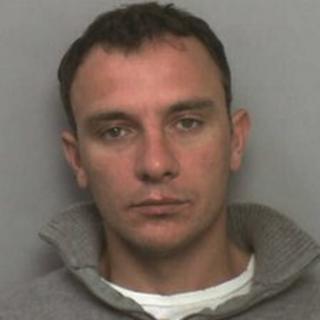 A man who beheaded a restaurant manager will not have his 19-year sentence reduced by the Court of Appeal.
Jonathan Limani was found guilty of manslaughter with diminished responsibility at Oxford Crown Court in March 2012.
In August 2010 he decapitated Christopher Varian, 32, from Aylesbury, Buckinghamshire, with a cheese knife at The Oxfordshire in Thame.
Lady Justice Rafferty said the term for the "barbaric" killing was justified.
Limani, an Albanian with a Swedish passport, had a lengthy history of mental ill health and paranoid schizophrenia.
The court heard he planned the motiveless attack by taking the knife from an upstairs room of the four-star hotel and golf club the day before.
Mr Varian was smoking a cigarette in a loading bay when he was attacked.
'Exceptionally grave'
Limani's barrister, Richard Benson QC, described the sentence as "manifestly excessive".
He added that one psychiatric report had said the mental illness was an "overwhelming" factor in Limani's actions.
Lady Justice Rafferty said: "This was not simply a knife carried from two floors further up on the same day, it was a cheese knife used with brutality and determination completely to decapitate.
"What he did was quite exceptionally grave in terms of seriousness.
"There was, in our judgment, no identified error in the judge's conclusion that 19 years was the appropriate minimum term, followed properly by reduction of that to 17-and-a-half years to reflect time spent in custody.
"This was an attack, mercifully unusual, with the gravest of features."
If convicted of murder Limani could have served 30 years or more, she added.
Lady Justice Rafferty also referred to a victim impact statement made by Mr Varian's mother, Sue, which spoke of "raw, raw grief" which could never be taken away.
"How is it possible to describe the suffering when your first born son has been murdered in such a barbaric way?" Mrs Varian wrote.
Limani is serving his sentence at Broadmoor Hospital. After serving his minimum term he could be freed if the Parole Board decides he is no longer a danger.