Dervorguilla of Galloway: Balliol College's 'unsung' founder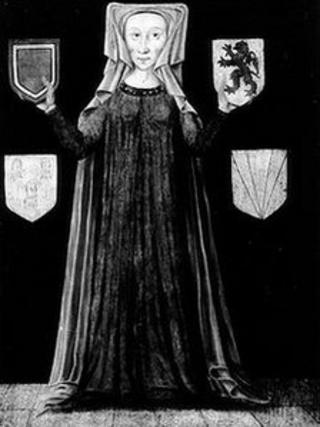 An Oxford University college may have taken its name from a medieval lord, but it was under the watchful eye of his widow that it thrived.
Balliol College claims to be the institution's oldest college, and is currently celebrating its 750th year.
John Balliol was spurred into the charitable act of its foundation after being whipped for upsetting a bishop.
But he died shortly after its formation in 1263 and it was Dervorguilla of Galloway under whose guidance the college blossomed.
The grief-stricken widow kept her husband's heart on her at all times, safe in a silver casket.
And she was determined Balliol College would make its mark, according to Dr John Jones, its archivist.
"She outlived him by 20 years and she ensured that what he started up became permanent," he said.
'Unusual motivation'
Dervorguilla's parents were Alan, Lord of Galloway, and Margaret, great-granddaughter of King David I of Scotland.
She married John Balliol in 1233, a loyal lord to King Henry III of England. Their son would be John I of Scotland.
Dr Jones said: "John Balliol is supposed to have thrown his weight around and offended the Bishop of Durham, who was an enormously powerful figure.
"He had a penance imposed on him by the bishop to support a group of scholars in Oxford.
"He must have accepted this penance willingly. People were concerned about the good of their souls and the time they would spend in purgatory.
"The college could have fizzled out, but having started the ball rolling, under Dervorguilla it never stopped."
Balliol was made up of about 20 students studying philosophy and mathematics.
Dervorguilla established its permanent endowment in 1282, as well as formal statutes, a seal, and a house to study in.
Dr Jones added: "She somehow persuaded the Bishop of Lincoln to issue a charter. Getting formal documented approval from the controlling bishop was a key step.
"She was unusual not only in her motivation but in the simple fact that she was very wealthy.
"And she was the bloodline through which ran the Kings of Scotland, yet she wasn't drawing on any men except her dead husband."
Dr Emma Cavell, lecturer in medieval history and tutor for women students at the University of Leeds, has a particular interest in noblewomen from the 13th Century.
She said: "Great women like Dervorguilla can very often be seen founding [and] endowing... I am glad she did, because I did my D Phil [PhD] at Balliol.
"This was partly religious, partly social. It was a way of saying 'Hey - this is me, this is my family and this is my piety'.
"These things were not antithetical in the way we might view them today."
'Shrine to love'
Despite having a woman as co-founder, the college waited until 1979 before admitting female students.
"What is to be regretted is Balliol historically has been the first to do an awful lot of things, but it was not the first to admit women," Dr Jones said.
"It was the first to have large numbers of foreign students, large numbers of Jews and a Roman Catholic fellow."
Poetry has been written of the love shared between John Balliol and Dervorguilla of Galloway.
A monastery she founded in Scotland was renamed Sweetheart Abbey in her honour.
Adrian Cox, cultural resources advisor at Historic Scotland, said: "She was buried in front of the high altar at Sweetheart Abbey. A stone slab in the floor marks the supposed site of her burial.
"The name derives from Dervorguilla's act of remembrance towards her late husband.
"Dervorguilla was devoted to her husband... on her own death, his heart was buried with her at Sweetheart Abbey."
Their lost graves lie amongst the ruins of the abbey, which is described as a "shrine to human and divine love".
An anniversary exhibition is being held at Balliol Historic Collections Centre in St Cross Church on Manor Road until 12 October.