Oxford rape and trafficking: Two sides of the city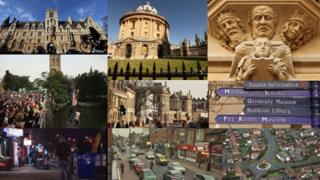 To many, the picture postcard city of Oxford is all about its universities, ancient cobbled streets and dreaming spires.
But beyond the historic colleges there is a side tourists are unlikely to see.
Over the past few months an underbelly has been exposed, with young girls being groomed, left hooked on drugs and passed around for sex.
Sickening details emerged during a trial of nine men accused of various offences involving vulnerable girls aged as young as 11.
Seven of them were convicted of offences including rape, child prostitution and trafficking, while two were acquitted.
The crimes uncovered by Operation Bullfinch - as police dubbed their investigation - have caused shock that this could happen in Oxford.
'Absolutely wrong'
But those who live and work in the Cowley Road area, where many of the victims were approached, admit there is a "darker side".
It was here the men picked up their victims, targeting vulnerable girls and plying them with drink and drugs.
Girls out at night in the area were presumed to be "up for it", one victim said during the trial.
Andy Dipper, from volunteer group Oxford Communities Against Trafficking (Oxcat), warned this case could be the tip of the iceberg.
He said: "This is not just a university city, this is a city which is far more complex.
"Many things are happening beneath the surface that we need to be really concerned about.
"There's been a real shock for many people; is this really happening in Oxford today?
"Humans should not be sold as commodities, that's wrong, absolutely wrong, and we are encouraging everybody in Oxford to open their eyes to what's happening around them."
Oxford is a city of contrasts.
It is the sixth most visited UK city by international tourists, but it has some of the most deprived parts of England to the south and east, according to government figures.
'Violent groups'
Peppered with fast food outlets and letting agents, the Cowley Road has a diverse mix of students and residents of different ethnic backgrounds.
One man, who did not want to be named, said: "There's some violent groups, they don't believe in peace, I guess.
"[There are] groups of people trying to attack you after midnight, you can have a bunch of people attacking you, it's really not safe sometimes.
"In the day it's safe... as soon as it's evening time a lot of different people come out."
Simon Pillinger, a young adult worker at Cowley Road Methodist Church, moved to the city from Manchester.
He said: "Whenever you get a concentration of culture you will always attract a darker side.
"You see some shady characters but I wouldn't want to pass judgement... it could be perfectly innocent.
"There is very much an outer view of Oxford being all about the university. It's a fairly superficial view; there's always a dark side to any place."
Residents admit there are issues but insist they are no different to those faced by other cities.
'Very isolated'
City councillor Steve Curran said it was dangerous to use the case to criticise the Cowley Road area.
"Whenever you have a crime, there are 150 people that have not committed a crime," he added.
"Cowley Road is absolutely fine and full of lots of nice people.
"I think [this case] in terms of the whole society is very isolated and most people think of it as an isolated occurrence and get on with their lives."
In recent months police have started specialist patrols looking for signs of sexual exploitation.
Accompanied by a social worker, they will approach anyone who could be vulnerable, such as young people who are with older men.
Now Oxford is the focus of concerted efforts to prevent a repeat of the problems that have blighted the city, it seems similar abuse is less likely to be an issue here.
But as the man in charge of Operation Bullfinch points out, what has been uncovered by police in Oxford - as well as in Rochdale, Telford and Derby - will be taking place across the country.
Det Insp Simon Morton said: "If it happens in Oxford, I can't imagine a city it wouldn't be happening in.
"Operation Bullfinch is the start. It's going to come in many shapes and forms."
Chief Constable Sara Thornton said there were more than 30 other investigations continuing in the Thames Valley force area.
"I'm convinced there are organised networks," she said.
"Whether it's one network or many overlapping networks, I don't know."