Fraudster Arron Thomas spent £4,250 on wife's breast op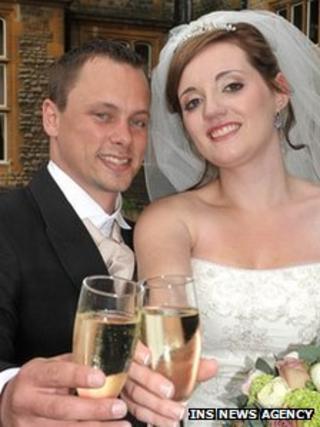 A clerk who stole money from a firm to fund a lavish wedding and breast surgery for his wife has been jailed.
Arron Thomas, 32, generated cheques worth £100,000 while working at an Oxford building firm in 2011, paying the money into his wife's account.
It was spent in 10 weeks on a wedding, including a £14,135 car, a £420 cake and £4,250 on breast augmentation for his wife Rhianna, 24.
Thomas was jailed for 22 months. His wife was given a suspended sentence.
Oxford Crown Court heard her criminal activity was limited to possessing the money and that her husband had control of the funds.
Arron Thomas had been hired as a ledger clerk by Grafton Merchanting in Cowley.
On his application he claimed he had no previous convictions despite being convicted of fraud just weeks earlier.
Between February and April 2011, Thomas, of Coopers Lane, Abingdon, paid four fraudulently generated cheques into his wife's account.
Recover property
As soon as the funds cleared, the couple began spending the money on a "lavish" lifestyle, the court heard.
A routine audit carried out by the firm uncovered the fraud in August 2011 and police were informed, arresting the couple in January 2012.
Det Con Matt Welsh said: "His actions were blatant but he believed the fraud would go unnoticed.
"This lifestyle was a far cry from what they were used to which would have raised suspicions among those who knew them."
A process is under way to recover the property and any other available assets.
Arron Thomas admitted five counts of fraud and three counts of transferring criminal property.
His wife was found guilty of two counts of possessing and transferring criminal property and given a 15-month jail term suspended for two years.