Oxford community hydroelectric plant investors pledge £100,000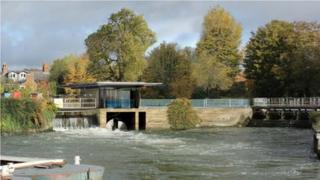 Investors have pledged more than £100,000 in four days after shares were offered in a community project for a small hydroelectric plant.
West Oxford Community Renewables has planning permission for a water turbine on the River Thames at Osney Lock.
It needs to raise £250,000 by 7 May so work can coincide this summer with renovations by the Environment Agency.
A share offering has already raised £115,000 with investors offered an annual return of 4%.
Barbara Hammond, director of Osney Lock Hydro, started exploring the idea of a community power plant with a group of residents 12 years ago.
She said using average flow data on the river for the last five years showed an expected annual return of £50,000.
'Busting a gut'
The plant is designed to provide power 50 homes with most of the electricity being sold to the Environment Agency.
Mrs Hammond said negotiations with the agency and other interested parties had taken years.
"We've been busting a gut to get the share offer out," she said.
"After 12 years working on it we've got five weeks to save the project."
Investors can put in between £500 to £20,000 for 20 years, although funds can be withdrawn earlier if agreed.
Due to the scheme's community and environmental focus returns are limited to 4% a year, although certain tax benefits are available to investors on the first £150,000 pledged.
Mrs Hammond said she knows of another eight similar schemes being planned on the Thames in Oxfordshire and believes it could be a good way to promote renewable energy in the future while offering returns.
Any extra money raised by the scheme will be reinvested in community projects to reduce carbon emissions.