Margaret Thatcher's Oxford college to hold memorial event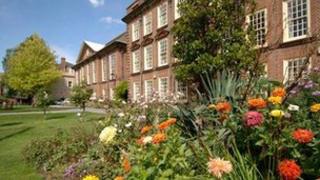 Margaret Thatcher's former Oxford University college will be holding a memorial event for the ex-prime minister following her death on Monday.
Somerville College said details had not been finalised but it would be held in a few months time.
The college has a Margaret Thatcher scholarship scheme but added there were plans to set up more scholarships in her name in the future.
Oxford University refused Lady Thatcher an honorary degree in 1985.
In that year academics led a campaign against honouring her in protest against the government's cuts in funding for education.
As a result Lady Thatcher became the first Oxford-educated post-war prime minister to be denied the honour.
A university spokeswoman said it did not have a comment on the vote in 1985.
But Professor Peter Pulzer who led the university's opposition said the vote reflected "widespread dismay" at the time within and beyond the academic community.
He added: "It was not intended as a permanent personal vendetta to be pursued for the rest of her lifetime or beyond the grave. There is nothing to be said for perpetuating grievances over the decades."
He said a memorial or further scholarship in honour of Lady Thatcher was a matter for Somerville College, not the University of Oxford.
He added: "Whatever one's specific disagreements with her, there is no denying her historical significance and it is legitimate to commemorate this."
'Immensely proud'
A statement on the college's website on Monday said it had continued to enjoy a "warm relationship" with Baroness Thatcher since her graduation in 1947.
She was elected to an honorary fellowship of Somerville in 1970, and the college opened its Margaret Thatcher Conference Centre in 1991.
The college has also set up The Margaret Thatcher Fund.
The statement added: "We are immensely proud to have educated Britain's first - and so far only - female prime minister and one of the most internationally significant states people of the 20th Century".
In an open letter in February 1980 to the college, Lady Thatcher had written: "May I take a few moments from the daily round of difficult tasks to say how much I owe to four years at Somerville.
"The harvest gathered from those years has been rich indeed."