Oxford's St Clement's Car Park space loss 'will hit trade'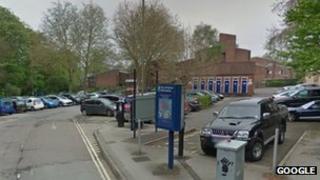 Work has started to turn part of a car park into student housing amid fears the loss of spaces will hit trade.
The 120-space St Clement's Car Park in Oxford will remain open during the work but will operate with a reduced number of spaces, ranging from 14 to 69.
The city council said the new 140-room student accommodation would free up housing and bring more people to shop.
Trader Clinton Pugh believes his profits will be hit because customers will go elsewhere.
Mr Pugh, of Cafe Coco, added: "I did a survey on a Saturday and Sunday, which revealed a third of my customers parked there.
"My business has been struggling through this recession... this is now an extra blow.
Free bus service
"Nobody wants it [the development]."
The car park will be left with 80 spaces when work ends in August next year.
Police had to guard the planning meeting last year where the proposals were approved after a threat was made to council staff.
A new 70-space temporary car park, with two hours free parking, has opened in Marston Road for the duration of the work with a free bus service operating.
Councillor Colin Cook, member for city development, said: "It will bring a great number of people into the area.
"That car park was only full on a small number of occasions.
"It will free up market housing which is needed in Oxford."