Oxford Christ Church Cathedral hosts Royal Maundy service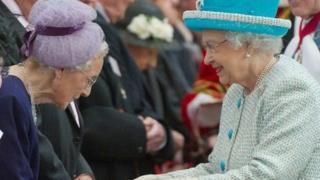 The Queen and Prince Philip will attend the Royal Maundy Service at Christ Church Cathedral in Oxford later.
Her Majesty will distribute Maundy money to 87 men and 87 women from Oxfordshire, Berkshire and Buckinghamshire to mark the Queen's 87 years of age.
The royal service is the first at the cathedral in St Aldate's since Charles I's reign in the 17th century.
Road closures in the area are in place from 10:30 to 15:30 GMT.
'Nervous but pleased'
The recipients are all pensioners within the Oxford diocese, recommended by clergy and ministers, in recognition of service to the church and to the Oxford community.
The Very Reverend Christopher Lewis said of the Royal Maundy Service: "The last time it happened here was in 1644 when Charles I was thrown out of London and welcomed in Oxford."
He said holding the service at Christ Church meant "an enormous amount to this place, Oxfordshire and the Oxford diocese".
He added: "One is always a bit nervous about what things might go wrong but we are very pleased."
Crowd barriers in St Aldate's will be set up from 08:00.
King Edward Street and Oriel Square will be closed from 10:30 to 15:30. St Aldate's will be closed in 15-minute segments during that time.
Every year the Queen visits a cathedral to make the presentation on Maundy Thursday in a ceremony that dates back to the 13th century.
The service used to happen in London, but early in her reign the Queen decided the service should take place at a different venue every year.
The Queen has distributed Maundy on all but four occasions since coming to the throne in 1952, but this is the first time she has done so in Oxford.
After the service, the Royal party will sign the Cathedral visitors' book.
The party will then attend a reception at the Deanery and lunch as guests of Oriel College.