Oxford Lord Mayor resigns over 'sexy' comment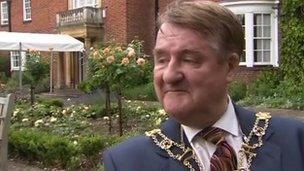 The Lord Mayor of Oxford has resigned after being censured for making a remark towards a 13-year-old girl using the word "sexy".
Despite being found to have breached the city council's code of conduct Alan Armitage had vowed to continue.
But in a letter on Monday the Liberal Democrat councillor said he did not have the support of all his colleagues.
The chairman of Oxford West and Abingdon Lib Dems had described his behaviour as "absolutely unacceptable".
Tony De Vere added: "This is a matter the Liberal Democrats take extremely seriously."
A committee heard from a number of witnesses on Wednesday.
None of them could definitively say what the remark was, an Oxford City Council spokeswoman said.
But she added witnesses reported hearing a combination of words including: "Bending is very sexy isn't it?", "Ooh, that's a bit sexy" and "It's sexy when you bend down like that".
The committee found the Liberal Democrat Lord Mayor had breached two paragraphs in the council's code of conduct, relating to treating others with respect and bringing your authority into disrepute.
Mr Armitage subsequently called the ruling "unfair" and said he was misheard by witnesses.
In the resignation letter to city council chief executive Peter Sloman, he wrote: "Despite the decision of the standards committee... which stated 'there was no reason why Councillor Armitage should not continue to undertake the full range of his mayoral duties', I have been made aware in recent days that this does not represent the view of all councillors.
"I therefore resign from my position as Lord Mayor, with immediate effect, so that the council may find another person in whom they all have confidence to carry out the duties of the role."
The council spokeswoman said Mr Armitage had not resigned his post as a councillor.
Related Internet Links
The BBC is not responsible for the content of external sites.