Elizabeth Tanfield Cary 1598 manuscript published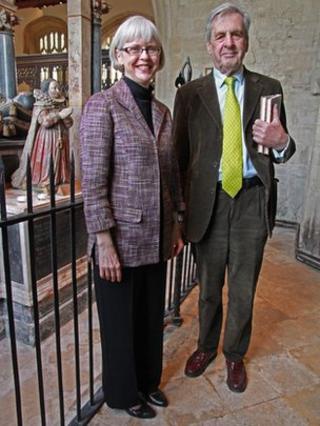 A manuscript that was written by a girl in 1598 and hidden in a church safe for centuries has been published.
The Mirror of the Worlde, the first works by poet and dramatist Elizabeth Tanfield Cary, was found in Burford Church, Oxfordshire, in the 1970s.
She grew up in the village and wrote the piece - a translation from French of the text of the early world atlas of Ortelius - when she was aged 12 or 13.
It is now being kept at the Bodleian Library in Oxford.
Dr Lesley Peterson, a Canadian scholar and associate professor at the University of North Alabama, in the US, has succeeded in getting it published.
She said: "[The manuscript] is very fragile. It is being preserved in a climate-controlled space.
"The pages are in some cases badly damaged by damp and some of them have cracked."
Queen Elizabeth I
Dr Peterson has spent 10 years researching how Elizabeth's experiences as a young girl growing up in Burford influenced her thinking and imagination in her later publications.
She said: "This woman is most famous today for having written the first original tragedy in English by a woman, The Tragedy of Mariam.
"But a few biographers had mentioned the existence of this manuscript, but in a very dismissive way.
"So I thought I needed to see this and I had to track it down."
Dr Peterson believes the decisions she made in that early translation tells a lot about her thinking.
"For instance, she was just a little girl, but she was an only child and she was her father's heir," she said.
"She met Queen Elizabeth I when she was just a little girl, because her parents hosted the queen at her house.
"So she has these very strong female role models, and in her translations, every time the original text says something complimentary about a woman, little Elizabeth sneaks in an extra adjective."
The Mirror of the Worlde is published by McGill-Queen's University Press, with an introduction by Dr Peterson.