Businessman wants to buy Oxford greyhound stadium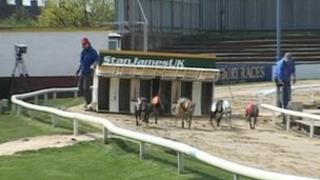 An Irish businessman has revealed he wants to revive a disused greyhound track - but only if plans to use the site for housing are abandoned.
Paschal Taggart told the BBC he hopes to bid for Oxford greyhound stadium, which closed in December.
It is believed the Greyhound Racing Association wants to sell the site for housing, a plan opposed by the local MP, city council and a campaign group.
The association has not responded to requests for a comment.
Speaking on BBC Radio Oxford earlier, Mr Taggart said: "I can't compete against a housing bid because I'm buying an asset to work over 20, 30 or 40 years and they're buying something they can turn into money right away."
No planning application to turn the site into housing has been made yet, but Mr Taggart said he expected many bidders if it is preserved as a greyhound track.
Gavin Beckley, of campaign group Save Our Stadium, said: "I am all for Mr Taggart and I wish him all the best."
Oxford East Labour MP Andrew Smith has described the loss of the track as an "absolute tragedy" and said using the site for housing would "tear the heart out of the community".