Oxfordshire solar farm backed by pension fund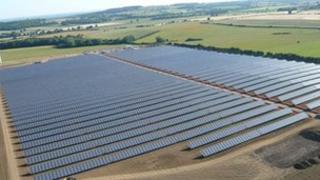 The future of a community-owned solar power farm in Oxfordshire has been secured with a £12m loan from a pension fund.
Westmill Solar near Watchfield was set up by residents in 2011 on a 30-acre organic farm.
The Lancashire County Pension Fund has invested in the project, which sits in a grazing field of 85 hectares.
The co-op's Mark Luntley said: "It's now the largest co-operatively owned solar project in the world we believe."
Initially funded by a bank loan, it now has a 23 year index-linked bond.
Its 21,000 panels can generate about 4.5 million kilowatt hours per year, producing enough electricity to power around 1,400 homes.
The farm sells power to the National Grid through the the government's Feed-In Tariffs payments given to anyone who owns a renewable electricity system.
They are paid for every kilowatt hour they generate. The farm brings in around £1.4m per year.
The scheme has more than 1,600 shareholders, most of them based within 25 miles (40km) of the farm.