Oxford City Council staff vote in favour of new pay deal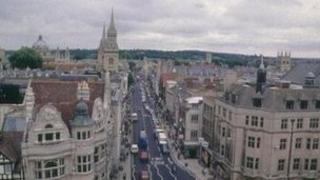 Staff at Oxford City Council have voted in favour of a new pay deal guaranteeing them a pay rise every year until 2018.
Following four months of negotiations with unions, more than 1,200 council staff will see their pay increase by 1.5% each year for the next five years.
Nationally, most councils have recommended a pay freeze for staff.
The Labour-controlled council says the living wage increase will not reduce funding for services.
The deal also provides an opportunity for additional pay based on performance and attendance levels.
Council chief executive Peter Sloman said: "Pay will be set at a level which secures the council's budget and enables us to manage a 30% funding cut from central government without cutting services or jobs.
"Two years ago, in response to central government spending cuts, the council's unions and management agreed to freeze annual increments and replace them with a partnership payment.
Raised productivity
"This was conditional on the council meeting its efficiency targets, and good performance by staff in relation to performance and attendance.
"To date, that deal has protected staff jobs, seen productivity rise by 20% and halved the loss of time to staff sickness.
"We expect a similar increase in productivity over the next five years."
Unison branch secretary Caroline Glendinning said: "The new deal will mean that, for the next five years, pay will be set locally in Oxford.
"The annual cost of living increase in the new deal is less than inflation but, in these uncertain times, it gives staff more wage certainty than they would have otherwise."
The pay deal was endorsed by more than 90% of Unison members and more than 80% of Unite members.