Horsemeat scandal: Withdrawn burgers found on sale in Tesco in Oxford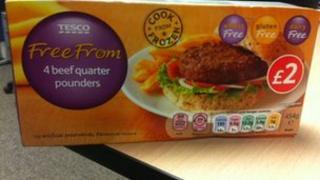 Tesco has apologised after burgers that were withdrawn in the wake of the horsemeat scandal were found on sale in Oxfordshire.
A BBC reporter managed to buy the own brand "Free From" frozen quarter pounders after a member of staff overrode an alert message on the till.
The brand was not implicated in the horsemeat investigation but it was withdrawn by Tesco as a precaution.
The supermarket chain said it has spoken to the store in Cowley.
BBC Oxford was contacted by Headington resident David, who did not want to give his surname, after he found the product on sale on Wednesday.
He said staff refused to sell him the product after an alert message was displayed on the till.
But when the BBC reporter attempted to buy the product a worker overrode the block and allowed him to purchase the burgers.
'Urgently investigating'
David said: "I can understand a till person not knowing, but I would have thought the supervisor at least would have known.
"We said to the supervisor at the time we hoped the others will be taken off the shelves and the supervisor said they would make sure it gets done, which obviously it wasn't.
"It begs the question what on earth is going on with their staff training?"
Earlier this month it was revealed that horse DNA was found in some beefburgers being sold in UK and Irish supermarkets after an investigation by the Republic of Ireland's food safety authority (FSAI).
Horsemeat accounted for approximately 29% of the meat content in one sample from Tesco.
Tesco confirmed the products affected were its Tesco Everyday Value 8 x Frozen Beef Burgers (397g), Tesco 4 x Frozen Beef Quarter Pounders (454g) and a branded product, Flamehouse Frozen Chargrilled Quarter Pounders.
It also withdrew a number of other lines as a precaution, including the one found on sale in Oxford.
A Tesco spokesperson said: "We are urgently investigating how this product came to be on a shelf in store.
"The block on purchase at the checkout should not have been overridden.
"We sincerely apologise for this, and we have spoken to the store to ensure that this does not happen again."