Oxford pigeons prove a pest for Greggs shop staff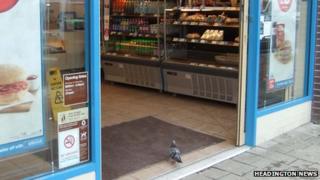 Health inspectors have been called in following reports pigeons have forced a branch of Greggs to throw away food and close for business.
The bakery in Headington, Oxford has reported problems with pigeons flying through the front door and across the shop floor helping themselves to food.
Greggs could not confirm if the incident had happened more than once.
Customers were first notified by a sign on the door reading: "Sorry we are shut. Pigeon again."
In a brief statement, Greggs said: "Food hygiene is our top priority and we are proud of our great reputation for serving fresh, quality food in a safe and clean environment."
Posts on Headington's community website forum first raised awareness of the store's pest problem.
Local Oxford city councillor Dee Sinclair is among those to have read about the pigeons' exploits.
'Enterprising pigeon'
She said: "It's not clear if it's the work of one pigeon or several.
"But the impact on the shop has apparently been very difficult and I believe staff have had to dispose of quite a lot of food.
"It appears to be happening on almost a daily basis.
"They're quite enterprising pigeons though, as there's not a lot of food outside the nearby Co-Op store where they used to be fed."
Oxford City Council's advice to any food business is to call in a pest control contractor to deal with the problem.
A spokesman said: "Shops are required to ensure all food is protected from risk of contamination.
"Any open foods that have been exposed to contamination by pests of any description should be disposed of."