The Story Museum Oxford given £500,000 grant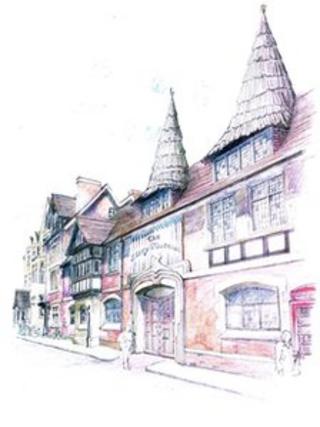 A museum in Oxford is receiving almost £500,000 in a grant from Arts Council England.
The Story Museum needs to raise a further £7.5m to renovate three buildings on Pembroke Street, called Rochester House.
Co-director Kim Pickin said: "This success will help boost our other fundraising efforts."
Poet and museum patron Michael Rosen said news of the grant was like a "fairytale".
"In a set of extraordinary buildings and spaces, people will be able to sit, climb, think, draw, listen, watch and tell stories themselves," he added.
'Fantastically exciting"
The museum has been given planning approval by Oxford City Council for its designs.
It plans to open the centre in 2014, describing the current premises as "our dilapidated and atmospheric building".
Councillor John Goddard described the plans as "interesting and fantastically exciting".
Co-director Tish Francis said: "It's been a tough time and we're not yet at the ball, but the coach has just been commissioned.
"Cinderella is now on the hunt for footmen, horses and ballgown - and more fairy godparents to grant more wishes."
The museum's other patrons include Philip Pullman and Jacqueline Wilson.
Arts Council England has awarded £12m of small capital grants to 35 arts organisations.