Oxfordshire snow: Temperatures to drop to minus six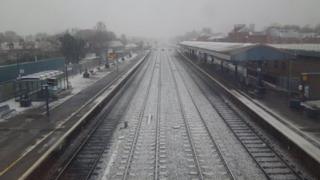 Temperatures are set to drop as low as minus six overnight across Oxfordshire as the cold snap continues.
More than 1,200 homes in Wantage have been affected by a power cut. Southern Electric engineers are on site dealing with an underground fault.
Gritters were out through the night across the county as snowfall on Sunday turned to ice.
The region's ambulance service took 500 more 999 calls than the previous weekend.
More than 40 schools closed across Oxfordshire while many opened late.
The Met Office has forecast a dry and largely cloudy day, with the risk of an odd snow flurry later.
The enhanced content on this page requires Javascript and Flash Player 9
Map Key
Land
Cloud
Lakes, Rivers & Sea
Fog
Light
Heavy
Frost
Light
Heavy
Pressure Fronts
Cold
Warm
Occluded
Rain
Light
Heavy
Extreme
Snow
Light
Heavy
Temperature tab only
Temperature (°C)
More details from BBC Weather