Oxfordshire snow: Weather causes 'treacherous' roads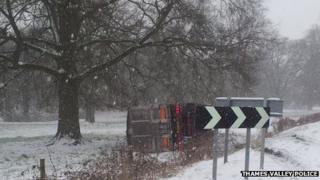 Drivers in Oxfordshire have been warned of "treacherous" road conditions as 10cm (4in) of snow hits the county.
The Met Office has issued an amber weather warning for the county, advising people not to drive.
Ian Crowder from the AA said: "A driver was going along a snow covered lane and he thought the road continued but in fact it was a village pond."
About 150 schools in Oxfordshire have closed and public transport has been affected.
Dawn Shilton, headmistress of Orchard Fields Community School in Banbury, said it was closing because of dangerous road conditions.
"There is a blanket of white and we have staff living in villages who we want to get home safely," she added.
Mr Crowder said: "A third of all the claims we're getting at the moment are where people have come to grief in the snow and ice, and that carries its own message."
Thames Valley Police attended an overturned lorry on the B4030 in Middleton Stoney.
"This lorry driver had a lucky escape," Ch Insp Henry Parsons said.
First Great Western and Chiltern Railways are running usual timetables, but are prepared for disruption.
'Spinning Porsche'
Oxfordshire County Council's gritters have been fitted with snowploughs should the conditions require. It has also closed all of its libraries.
Waste collection services in Vale of White Horse and South Oxfordshire have been postponed until 21 January.
Phil Ashworth, from the Oxford Bus Company, said: "We are running a good service on all the main routes but we are starting to experience difficulties where our routes leave the main roads."
Several Stagecoach bus services have been cancelled due to heavy snow.
Other closures include Cotswold Wildlife Park and the Bicester Village shopping outlet "for safety reasons".
Alex Rayner, who was travelling northbound on "a very snowy M40", said broken down cars were pulling over between junctions nine and 10.
He added: "The fast lane is completely out of action. There's 2in (5.1cm) of snow on it.
"We've seen a car do a 360 - spinning round and round in the middle of the motorway.
"It was a Porsche… to even head out in this weather with cars like that is just bonkers.
"We helped one lady out of her car after she hit the central reservation."
Bethan Morgan, the council's emergency planning officer, said: "The picture on the county's roads could change very rapidly and we would ask people to drive to the conditions and take extra care."
The enhanced content on this page requires Javascript and Flash Player 9
Map Key
Land
Cloud
Lakes, Rivers & Sea
Fog
Light
Heavy
Frost
Light
Heavy
Pressure Fronts
Cold
Warm
Occluded
Rain
Light
Heavy
Extreme
Snow
Light
Heavy
Temperature tab only
Temperature (°C)
More details from BBC Weather