Ardley villagers to take legal action over 'horrendous smell'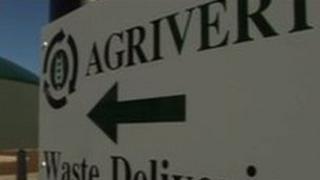 Families in an Oxfordshire village are to take legal action against an industrial composting plant they claim is causing a nasty smell.
Forty families in Ardley, near Bicester have instructed solicitors to take on their case against Agrivert, which opened a site in the village in 2010.
Some claim the smell is so bad they feel trapped in their own homes.
Agrivert is yet to comment on the proposed action. Its plants recycle 40% of food waste in Oxfordshire.
The company owns five recycling sites across the county.
'Rotting cabbage'
Malcolm Heaton has lived in Ardley for more than 20 years and is among the residents taking legal action.
He said: "The smell can really only be described as something worse than rotting cabbage.
"It's horrendous and some days you can come home and actually feel physically sick.
"If there's a south-west or westerly wind blowing it really hits you. Through the summer months it has an effect as you tend to spend more time outdoors."
Mr Heaton said he has spoken directly to Agrivert and had received an apology.
He believes legal action is necessary to ensure steps are taken to prevent further problems in the future.