Oxford Lord Mayor hearing conduct delayed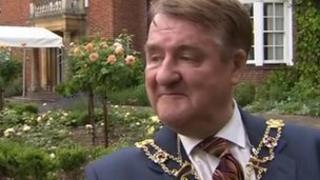 A hearing into allegations that Oxford's Lord Mayor made an inappropriate comment during a school visit has been delayed.
The standards hearing was postponed after the Lord Mayor, Liberal Democrat councillor Alan Armitage, disputed the investigation report.
He also said he wants to call witnesses in relation to the allegation which was made in relation to a visit he made to an Oxford school in June last year.
The hearing is to be held next month.
If Mr Armitage is found guilty of the offence he could face a range of sanctions from a warning to dismissal.
Jeremy Thomas, head of law and governance at Oxford City Council, said: "At the meeting, Councillor Armitage indicated that he now wished to dispute the conclusion of the investigation report and call a number of witnesses.
"The committee had not had notice of that and could not therefore proceed to determine the complaint today.
"Arrangements will now be made for the hearing to take place in approximately five weeks' time."