Wheatley rugby player dies after collapsing on pitch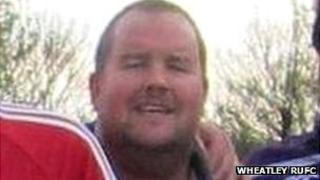 A rugby player has died after collapsing on a pitch in Oxfordshire.
Jason Laman, 42, who plays for Wheatley RFC, fell to the ground as he prepared to take a kick during a match against Broadmoor Staff on Saturday afternoon.
The father of three was given first aid and taken to the John Radcliffe Hospital in Oxford where he died.
Club chairman Peter Ramsdale said Mr Laman was a very popular member of the club and had been a player there for 20 years.
'Cracking player'
"He had a tremendous sense of humour - always laughing and joking," Mr Ramsdale said.
Friends paid tribute to their team mate on the club's Facebook page, calling him a "total legend" and "cracking player".
Speaking about the incident in which he died, Mr Ramsdale said: "He was having a really good game. Jason was just about to take [a] conversion but as he walked up he collapsed."
He said Mr Laman left a wife, three children and three step-children.
Mr Laman had organised numerous charity matches and other events, including ones in aid of Help the Heroes after another player, Dale Gostick, a Royal Marine, was killed in an explosion in southern Afghanistan.