Women clergy celebrated in Dorchester Abbey service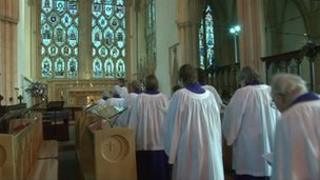 A service to celebrate the contribution of women clergy to the Church of England has taken place in Oxfordshire.
The event, attended by the bishops of Dorchester, Buckingham and Reading, was held at Dorchester Abbey.
The service at 15:00 GMT, followed by a party, was organised following the vote on women bishops in November.
The Diocese of Oxford, which covers Oxfordshire, Berkshire and Buckinghamshire, has more than 250 women serving as clergy.
'Good stories'
Before the event Canon Sue Booys, rector of Dorchester Abbey, said: "I'm delighted to be hosting this celebration. There is much for us to celebrate and I know we have an abundance of good stories to share."
The bishop of Dorchester, the Rt Revd Colin Fletcher, who is leading the service, said: "This is all about celebrating and affirming women's ministry here in our diocese."
In November the 420-member general synod of the Church of England voted narrowly against the appointment of women as bishops.
The decision was followed by protests including the wearing of aprons to church services in Hereford. The diocese of Bristol also passed a vote of no confidence in the general synod.