Bruges car crash: British couple crushed against house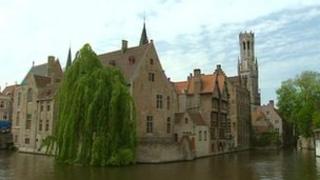 Doctors are attempting to save the legs of a British man and woman after they were crushed against a house by a car in Bruges, Belgium.
Simon Huxtable, 44, and Deborah Dale, 34, from Witney, Oxfordshire, were hit by a Mercedes at 10:30 local time (09:30 GMT) on New Year's Day.
A 22-year-old Belgian man was arrested for drinking and driving.
Bruges Police said doctors at Sint Jan Hospital were trying to avoid amputating the couple's legs.
Screaming of victims
The driver had been at a New Year's Eve party in the city centre. His car pinned the couple against a wall when he failed to turn at a T-junction.
A police spokesman said: "Neighbours heard the screaming of the victims and went out of their houses.
"There are a few accidents here but Bruges is normally safe."
The driver has been released from custody. His driving licence has been taken away from him for two weeks.
He is to face trial in the coming months.
Neither the hospital nor the family wish to comment.