Oxford greyhound stadium stages last race meeting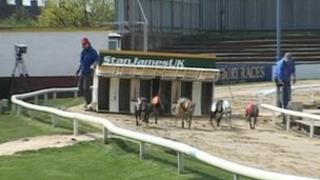 A greyhound track has closed its doors after hosting its final race meeting, 73 years after opening.
The Oxford Stadium, which recently dropped its Friday afternoon meetings, is being closed by operator the Greyhound Racing Association.
The site could be redeveloped for housing but the local MP, city council and a campaign group have voiced their opposition.
The final race at 22:20 GMT was won by 2-1 favourite Moorstown Mystiq.
Staff at the track on Sandy Lane in Blackbird Leys were informed of the closure in November.
It is estimated about 300 jobs are directly or indirectly dependent on the stadium.
'Chronically underused'
Oxford City Council has come out in favour of keeping the venue for leisure use while also supporting plans to bring back speedway, which was last held at the stadium in 2007.
Oxford East Labour MP Andrew Smith has described the loss of the track as an "absolute tragedy".
He admitted there was a "huge" amount of money to be made by converting the site into housing but he warned it would "tear the heart out of the community".
A campaign group has also been set up which plans to come up with ideas on making the stadium profitable.
Gavin Beckley, from Save Our Stadium, said: "If the current owners can't turn a profit we would like them to sell the site to someone who can run it as a leisure business.
"It runs two nights-a-week, you could run it seven nights-a-week without running out of things to do, it's chronically underused."
The Greyhound Racing Association has not returned requests for a comment.