Thame Olympian Simon Burnett holds swim master class for cancer charity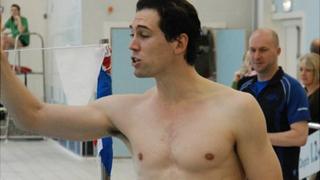 Thame Olympic swimmer Simon Burnett has taken time out from his Christmas holidays to hold a charity master class at his local swimming club.
The ex-Team GB athlete, who still holds the British record for the 100m freestyle, raised £750 for Oxford-based Urology Cancer Charity - UCARE.
He and his wife, the US swimmer Whitney Myers-Burnett, gave a talk and two-hour pool session on competitive swimming.
Thame Swimming Club chairman Ian Goetz said the event was "a great success".
The couple answered questions from the swimmers at the Thames Leisure Centre, and in the pool the swimmers practised training drills for all the strokes, "trying different things to see what made a real difference to their speed", Mr Goetz said.
After the session the swimmers had the chance to race against the pair.