Queen's New Year Honours list 2013 in Oxfordshire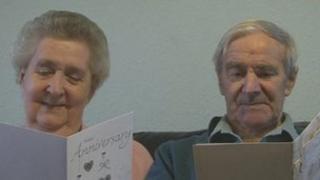 A couple who have fostered children for 42 years are among the Oxfordshire recipients recognised on the Queen's New Year Honours list.
Bill and Molly Morris, from Wheatley, are appointed MBEs for services to children and families.
"It's very humbling because what we're doing isn't out of the ordinary, it's a way of life," said Mrs Morris, a mother of four.
Also honoured is Oxford Preservation Trust director Debbie Dance.
Mr and Mrs Morris fostered their first child, a three-year-old autistic boy, in 1970.
'Big shock'
Mrs Morris, 76, said she has lost count of the amount of children they had looked after since.
She added: "It's just fun… and we'll do it as long as the children love coming. It's about them, it's not about us."
Mr Morris, 81, said receiving the news was a "big shock and big surprise".
The couple originally thought only Mr Morris was appointed MBE after opening his letter.
Mrs Morris said: "I was so proud of him and never thought about the rest of the post.
"It must have been three hours later that I sat down with a cup of coffee to read it.
"I thought 'I've already opened this one' but it was still sealed and it was mine."
'Oxford's heritage'
Debbie Dance becomes an OBE for services to heritage.
She said: "It's extremely lovely to be recognised and it's fantastic for Oxford and Oxford's heritage... but there's a few people in the team behind me that deserve an award too.
"I think it's about a recognition of heritage in all its guises, town and gown, and what a great place Oxford is.
"It's an extra Christmas present for everybody but an extra present for Oxford too."
The former CEO of the Financial Services Authority (FSA), Hector Sants, knighted for his work on regulation in financial services.
He said: "This award is a testament to the hard work of everyone at the FSA during the crisis, their willingness to learn lessons and to bring about the changes that were necessary.
"A strong financial services industry is very important for the future economic prospects of the UK."
Mr Sants is joining Barclays as head of compliance and government and regulatory relations on 21 January.
Kate Bush, who lives in Abingdon, is appointed a CBE for services to music.
The singer, whose hit singles include Babooshka, Running Up That Hill, and Wuthering Heights, has released ten albums since 1978 and has won both Brit and Ivor Novello awards.