Two guilty of Denis Witney murder in Oxford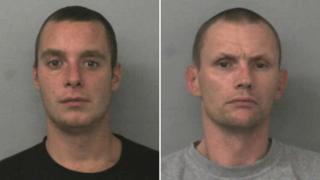 Two men have been jailed for life for beating a 39-year-old man to death.
Denis Witney was found with fatal injuries in St Clements Street, in Oxford, on 9 November 2011.
Wayne Cattell, 37, of Mortimer Road, and Daniel McCollin, 30, of Blay Close, Oxford, were told they must serve at least 17 years.
After the verdict, Thames Valley Police said Mr Witney was "vulnerable, asleep and unable to defend himself" when he was attacked.
His attackers repeatedly punched and kicked him about the head and upper body and then left him outside wearing nothing but his underwear, officers said.
Oxford Crown Court heard that Mr Witney, who suffered from cirrhosis of the liver, died after sustaining 26 injuries on his head and body.
They were indicative of either punching or kicking.
A third defendant, Joanne Moriarty, 29, was found not guilty of murder.
Jurors took two days to reach their verdict.
Defendants' lies
Speaking outside court, Mr Witney's mother Karen said: "Denis's family are relieved that the two men were found guilty of murder.
"It was the right decision.
"We accept the jury's verdict and know that it was a very hard case for them due to the amount of lies told by the defendants.
"Nothing will bring Denis back and we hope he can now rest in peace.
"He will be loved forever by so many who knew Denis before his addiction to alcohol took over and ruined what should have been a successful and happy life."
Thames Valley Police senior investigating officer Det Ch Insp Steve Tolmie said: "We are pleased with the guilty verdicts today.
"This was a callous attack that left a mother without a son and our thoughts very much remain with all the family and friends of Denis Witney."