Oxford students feeling pressure to sign early contracts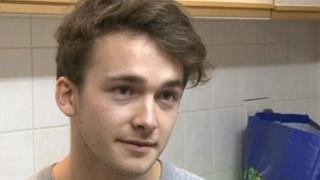 Students in Oxford claim they are being left liable for thousands of pounds of rent they cannot pay by being pressured into signing early housing contracts.
Some letting agents are collecting deposits and signing tenancy agreements with students nearly a year in advance.
Oxford Brookes Students' Union is worried increasing numbers are facing legal threats if they withdraw.
Letting agents say the move is simply a response to increased demand.
Second year student Oliver Scott, 19, signed a contract with his friends in November.
But, when they were due to move in 10 months later, failed exams and changed circumstances led to three tenants backing out.
Legal action risk
He said: "We have three spare rooms, and we're liable for a six-person house, being paid for by three students at the moment.
"We could potentially go to court, and soon as those words come about it adds so much pressure on to us.
"We never expected to be picking up two or three other people's rent."
Mr Scott and his housemates have so far been unable to fill the other three spaces, despite advertising them across the city.
Tom Smith, from Oxford Brookes Students' Union, said: "Quite often the issues are traced back to signing up early.
"We want letting agents to agree to release their housing lists at the start of February so that when students sign up they know what they should be looking for in the contract."
Letting agent Jan Bartlett said: "It's no good us sitting back and saying we think it's a jolly good idea to release the list in Easter when some agents release theirs as early as October."
Oxford City Council will seek to persuade agents to consider releasing their lists later in the academic year.