Barton development 'ready by early 2014'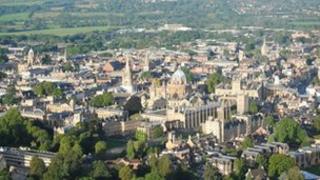 A new Oxford housing estate of up to 900 homes could be ready by early 2014, a developer has said.
The Barton Area Action Plan (AAP) was adopted at an Oxford City Council meeting at the town hall on Monday.
Ed Skeates, project director at Grosvenor, said: "We're hopeful that the new homes and community facilities will be delivered in time for residents to enjoy early in 2014."
A planning application will be made in Spring 2013.
Bob Price, leader of the Labour-run council, said: "This is the final step in a long process that dates back through several phases of consultation and inspection.
"An adopted AAP means we can now move quickly to deliver a high quality new neighbourhood that benefits not only the new residents but surrounding communities also while helping to address Oxford's massive housing shortfall."
'Non-committal'
Plans include a primary school, food store and park.
Sue Holden, of Barton Community Association, said the council was being "non-committal" regarding plans to deal with traffic.
She added: "We would prefer a subway as it would be a far safer way of getting across the A40. You can't expect traffic to slow down on that very straight stretch of road.
"But we're very happy about the estate in principle. There is a great need for housing, just as long as it isn't a concrete jungle."