Autistic girl Niamh Scott's Australia visa block overturned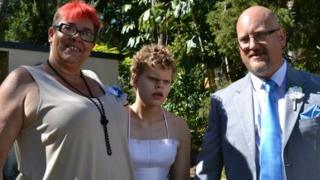 A couple whose autistic daughter was denied an Australian visa have now been granted permission to emigrate as a family.
Adrian and Julie Scott, from Didcot, Oxfordshire, want to move with Niamh, 12, who has severe autism and is profoundly deaf.
The Australian Department of Immigration and Citizenship has now overturned its previous decision.
Mr Scott described it as "the best Christmas present ever".
The Scotts hope to move to Australia with Niamh and their 19-year-old son Tevin next summer.
Their 29-year-old twin sons already live on the continent and Niamh's grandparents emigrated there almost 20 years ago.
'More favourable decision'
Mr Scott said: "There are no words to describe how ecstatic we are - it's the best Christmas present ever."
A letter from the Australian Department of Immigration and Citizenship to Mr Scott said Minister for Immigration and Partnership, Chris Bowen, had "decided to exercise his public interest power" and grant "a more favourable decision".
The family have been granted a permanent resident visa, which allows them to travel in and out of Australia for five years, on the condition they enter Australia before 11 December 2017.
When it originally denied the visa, the immigration department said it did not refuse applications based on disabilities, but took into account public expenditure on "health care and community services in short supply".
Entry rules for foreigners wanting to live in Australia are complex and several different types of visas can be granted, including business visas, student visas and employer sponsored visas.
Overseas parents may be eligible to migrate to Australia if they have a child there who is an Australian citizen or permanent resident.
Skilled workers and professionals who can benefit the economy can also be granted visas.