Oxfam given 17th Century alcohol-distilling book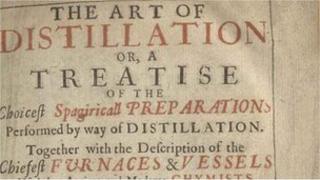 A rare book on alcohol distilling has been found in a carrier bag of books given to an Oxfordshire charity shop.
The 1653 copy of The Art of Distillation by John French was donated to the Oxfam Bookshop in Thame.
The charity said it believed the book contained the first written reference to the "worm", a coiled copper tube used as a method of distilling alcohol.
Bookshop volunteer Frank Metcalf said: "It's the oldest book we can remember offering for sale in our shop."
It has been put on sale at £650.