Toby Willows addresses Oxfordshire County Council over free buses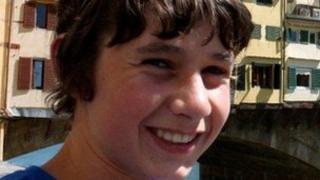 A boy who believes free bus travel should be given to unemployed 18 to 24-year-olds has had his idea turned down by county officials.
Toby Willows, 14, from Cherwell School, addressed an Oxfordshire County Council meeting on the issue earlier.
He said: "I believe they'll be able to get job interviews... and increase Oxford's employment rate."
Zoe Patrick, leader of the opposition, had asked for a feasibility study to be done.
But the motion, which was put forward by the Liberal Democrat councillor, was voted down.
Ms Patrick added: "We recognise the fact that young unemployed people are particularly disadvantaged by the current economic situation and that they deserve extra support to move on to the first steps to permanent employment."
Ms Patrick predicted the scheme's "ball park figure" would be "about £563,000".
"Obviously in the times of austerity that we're under at the moment we'll have to see where that money will be coming from," she said.
The scheme would have also included people on apprenticeships.