Ruskin College, Oxford criticised for destroying archive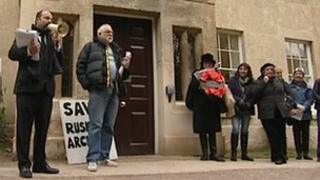 An Oxford college has been accused of destroying "part of world history" by shredding archive academic records and dissertations.
Ruskin College said it destroyed paper records which were not lawful to be held under data protection legislation.
Protesters say the documents about working class students are an important record of life in the 20th Century.
Ruskin College was set up in 1899 to provide education to working men, and later women, with few qualifications.
Many went on to play major roles in the international labour movement.
Ex-students, historians and archivists who handed a petition into the college say important information on students' backgrounds and academic progress was destroyed.
They said many pre-1950s student dissertations have also been destroyed.
More than 7,500 people have signed a petition condemning the college's actions, including writer Alan Bennett, Bob Price, leader of Oxford City Council and Sir Brian Harrison, former editor of the Oxford Dictionary of National Biography.
'Sensitive personal data'
John Walker of the University and College Union said the shredding was an "absolute tragedy".
"Ruskin is so much part of world history. I feel there is now an immense gap in our knowledge of 20th Century Britain."
But Principal Audrey Mullender said the protesters had made "legal errors" in their claims.
"We had some sensitive personal data which it was not lawful for us to keep.
"We have digitised the basic information and have not held on to the data which we did not have a lawful right to keep.
"We very much value our history."
The Information Commissioner's Office told the BBC the college was right to destroy the records if it felt they had been held for longer than necessary for the purpose of processing.
It added that the Data Protection Act only applies to living people and data can be kept longer for historical research purposes.