HMP Bullingdon inspection: Pillowcase used on prisoner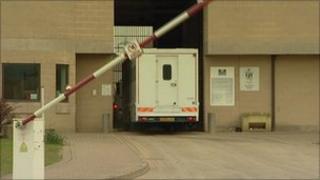 A pillowcase was placed over a prisoner's head to stop him spitting at staff, an inspection has revealed.
Inspectors said a number of "serious concerns" were raised at HMP Bullingdon in Bicester, Oxfordshire, although the jail was "generally performing well".
The improvised hood was used along with a body belt restraining device, but staff accounts of the incident differed, the report said.
The matter has been raised to the governor who has started an inquiry.
The HM Inspectorate of Prisons said the use of the pillow case and body belt were not recorded by all staff present at the time and a review of the incident was "compromised" as it failed to mention their use.
Body belts, which secure around the waist with handcuffs attached to restrict movement, must be authorised by the governor before being used on prisoners.
The Prison Reform Trust said the incident "highlights serious failings in the oversight of use of force by officers".
"Only approved restraint techniques should ever be used and use of force should always be proportionate, with proper arrangement for scrutiny and accountability," the trust's director, Juliet Lyon, said.
The unannounced inspection also found concerns over the actions of a "very small minority of officers" with documentation relating to the use of force not always completed.
'Above capacity'
While prisoners also said they had little confidence in the system for making complaints about staff.
HMP Bullingdon operates as a category C prison while also serving Berkshire and Oxfordshire courts.
At the time of inspection in July it held 1,087 adult men - almost 25% above its normal capacity, the report said.
Inspectors said overall they were pleased to find that most prisoners reported good relationships with staff and thought the jail was generally safe with a good alcohol and drugs plan.
Measures to support prisoners at risk of suicide and self-harm were good while there had been some improvement in the quality and quantity of work, training and education available.
Nick Hardwick, chief inspector of prisons, said: "Bullingdon was an improving prison. Most prisoners had a reasonable experience.
"The exceptions to this generally positive picture were relatively few - but they were very serious and undermined the work of the prison as a whole."
Michael Spurr, from the National Offender Management Service, said: "We are committed to running safe and decent prisons that support rehabilitation.
"The issues of concern identified... are being robustly addressed by the governor."