Oxford University's Steven Rawlings 'died after headlock'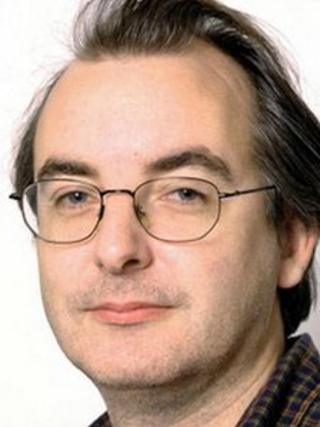 An Oxford professor died after a colleague restrained him in a headlock when he became aggressive and violent, an inquest has heard.
Steven Rawlings, 50, suffered a heart attack at the home of friend and fellow university professor Dr Devinder Sivia.
The inquest heard Mr Rawlings was being treated for mental health issues before his death in January and was restrained after attacking Dr Sivia.
The coroner at Oxford Coroner's Court recorded a verdict of accidental death.
Dr Sivia, 49, was arrested at the time but later released without charge.
Friends of the St Peter's College fellow told the inquest he had been acting strangely in the hours before the incident on 11 January.
Dr Sivia told the inquest he feared for his life when Mr Rawlings attacked him "like a man possessed" after becoming delusional and paranoid.
'Menacing look'
He said: "All of a sudden he took up a statuesque pose with a look in his eyes that I had never seen before.
"He sat bolt upright with his fists closed and a menacing look in his eyes.
"Then he said quietly 'I am going to kill you'."
Dr Sivia said Mr Rawlings began to punch him in the face.
Video footage of a police interview conducted with Dr Sivia was shown in which he demonstrated how he had attempted to restrain his friend.
During the interview, he said: "Initially I did have him pinned down to the floor because I just wanted him to calm down."
After demonstrating on his solicitor how he had restrained his friend, Dr Sivia told police: "Most of this time I was just trying to control him like that to stop him attacking me."
Well-respected
Pathologist Dr Nicholas Hunt told the coroner injuries to Mr Rawlings's neck, chest and voice-box - as well as a fracture to his right hand thought to have been caused by landing a punch - were consistent with Dr Sivia's account to police.
The two academics had been friends for 30 years and had published a book together in 1999, called Foundations of Science Mathematics.
Mr Rawlings, who had a pivotal role in the redevelopment of Goonhilly Satellite Earth Station in Cornwall, was said to be a well-respected and well-liked academic.
At the time of his death, Mrs Rawlings rallied to support Dr Sivia and in a statement issued through police, she said: "I do not believe Steve's death is murder and I do not believe Devinder should be tarnished in this way."
Describing her husband as a "well-loved, caring, intelligent, sensitive man", she added: "Steve and Devinder were best friends since college and I believe this is a tragic accident."
Recording his verdict, Oxfordshire coroner Darren Salter said he accepted that Dr Sivia, who suffered injuries to his face, had acted at all times out of fear and had not intended to harm his friend.
He said: "This is a very sad case indeed."