Oxfordshire floods: Refuge centres on standby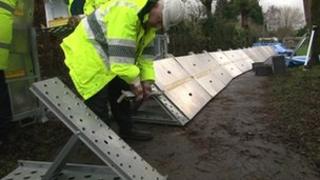 Refuge centres have been set up in Oxfordshire as flood warnings on more rivers are put in place.
Both Blackbird Leys Leisure Centre and Langdale Hall in Witney are on standby for residents affected by flooding.
The Environment Agency has issued flood warnings on the River Thames and River Windrush.
An Oxfordshire County Council spokesman said: "It is possible that some householders will be advised to leave in the next 24 hours."
Ashley Towne, manager at the leisure centre, which has cancelled all other activities, said: "The council will be evacuating people if necessary and guiding them here."
'Flooding risk'
Oxford City Council has set up flood barriers at Bullstake Close, Lake Street and Osney Island.
A spokesman said: "River levels remain very high and many households remain at risk of flooding over the next 24 hours."
Flood warnings in place include areas in Oxford, Culham, Witney and Ducklington.
"Property flooding can be expected for those properties close to the river as a result," the Environment Agency said.
Nick Moseley, a farmer in Long Wittenham, said he had pulled 19 vehicles from flooded roads, after drivers in 4x4 vehicles ignored road closure signs.
He added: "Many of the cars that I rescued are in fact completely dead, the engines have had it forever.
"In many instances it's not the drivers fault. It's other people's selfish behaviour."