Baby hedgehogs found in Oxfordshire recycling centre skip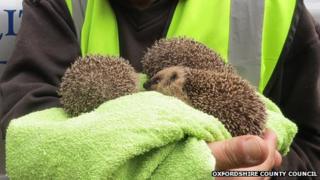 Three baby hedgehogs found in a rubbish bag in a skip are recuperating at a wildlife rescue centre.
Staff at the Oxfordshire County Council recycling facility in Redbridge found them when removing a garden waste bag thrown in the wrong skip.
Site worker Mark Henstridge said: "This is the first time I've found live animals in the three years I've been working here."
It is not known who dumped the animals in the skip.
Mr Henstridge added: "I'd like to believe it was an accident because I'd hate to think anyone could be so heartless towards defenceless animals."
After the discovery in October staff wrapped the hedgehogs in a blanket before taking them to the Little Foxes Wildlife Rescue Centre in Great Haseley, near Wheatley.
They will remain at the centre until they are released in the spring.
County councillor Hilary Hibbert-Biles said: "It's always heart-warming to see a happy ending to stories like these".