Soldiers of Oxfordshire Museum extension 'too tall'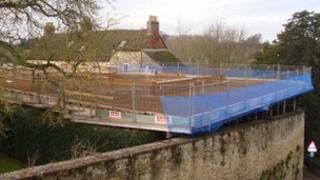 People living near an Oxfordshire museum's new extension claim the building is "too tall".
Residents near the Soldiers of Oxfordshire Museum in Woodstock claim the planning process for a new gallery did not fully consult them.
Work began on the £3.7m building in September and is expected to finish in November 2013.
Oxfordshire County Council said their planning committee approved the application fairly.
English Heritage, West Oxfordshire District Council and Woodstock Town Council all objected to the plans when they were submitted in 2010.
Now the full scale of the building has become apparent, Woodstock town mayor Brian Yoxall has called for work to be suspended.
'Lack of consultation'
Sue McGlyn lives nearby in the heart of the Woodstock conservation area and is among those concerned by the size of the extension.
She said: "Already the building stands about four metres over the top of a listed wall around the museum grounds.
"The big issues are the scale and the design. Added to that, we feel there was a lack of consultation with local people.
"We don't object to the idea of the building, we just believe there's been a lack of accountability from the council to the public with the principles of natural justice not being heard."
Ian Hudspeth, leader of Oxfordshire County Council and ward member for Woodstock, believes objections were taken into account when the planning committee approved the application.
He said: "The council has gone through all the processes that it legally has to. The committee made its decision in accordance with the information before them.
"But, I do have slight concerns about how widely residents were consulted and maybe the impact of the extension should have been given greater consideration by the committee."
The museum was unavailable for comment.