Oxfordshire Holy Trinity Church graves could be built on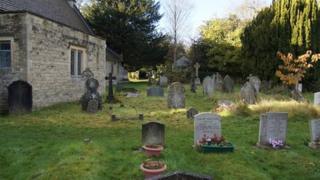 Campaigners say the dignity of those buried in an Oxfordshire churchyard is being disregarded with plans for a church extension over up to 15 graves.
Proposals for Holy Trinity Church, Headington, where novelist CS Lewis worshipped, include a new meeting room.
Jennifer Carpenter, whose great aunt's grave is affected, said: "It's a desecration of the graves".
Reverend Tim Stead said the remains would not be disturbed and welcomed views from family members.
'Not happy'
Mr Stead was keen to stress the alterations and extension were "simply ideas which we are seeking feedback on" and added the church was not "forging ahead".
The Parochial Church Council, the church's governing body, will make a decision on the proposals in late January 2013.
If approved a planning application is expected to be submitted to Oxford City Council towards the middle of next year.
The plans, which also include a new kitchen and toilets, as well as the removal of three pews from the original Victorian building, will be discussed at a public meeting later.
Miss Carpenter, who heads the Holy Trinity Preservation Group, said: "These are not medieval graves - one of them belongs to my great aunt, Frances Elizabeth Goodgame.
"Many more family members of those buried here are still alive and they're not happy about the proposals."
CS Lewis' grave
Mr Stead, the vicar at the church which was built in 1849 and has 200 congregation members, described the plans as "highly sensitive".
"The headstones of the graves would be moved to another part of the churchyard and the graves would be built over in a way that wouldn't disturb the remains," he said.
Miss Carpenter said the action group's 300 supporters did not believe the need for the extension had been proved.
CS Lewis, who wrote The Chronicles of Narnia, worshipped at the church for 30 years and is buried in the churchyard. His grave will not be affected by the proposals.